*This article is a sequel of "Dead by Daylight: Introduction & Beginner Survivor Tips."*
*Content Warning: This article mentions violence, death, and killing of humans in the context of gaming. Graphics may be uncomfortable for some readers due to horror or blood elements.*
Soon after I wrote my last article on beginner survivor tips in Dead by Daylight, this beloved game of mine released a new killer character named "The Artist." It is still in the Public Test Build stage, but many streamers have already tried it out and analyzed it for other players ahead of its release date in the next couple of weeks.
To welcome this new character, here is a compilation of beginner killer tips. While I'm by no means an expert on each and every killer, I hope that these tips that I learned from watching streamers will serve as a brief introduction to your killer experience.
Introduction
As mentioned in the prequel of this article, Dead by Daylight is based on a 4vs1 playing field, where 4 survivors work in a team to escape the map by fixing generators while 1 killer attacks and sacrifices them to prevent that from happening. While the imbalanced players on each side is counterintuitively confusing, the objective of survivors—fixing generators—play a big role in challenging the more populated side of the game.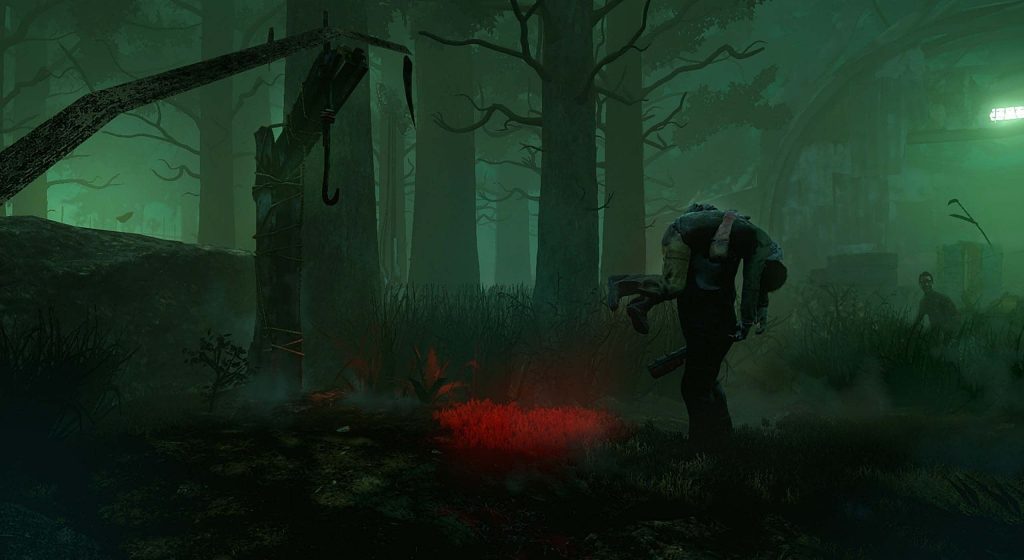 In addition, while both killers and survivors can have up to a maximum of 4 perks that will give them advantages for their respective tasks, killers have unique powers that allow them to spice up the game, so to speak. The powers are also inherent characteristics that are unable to be moved to other killers, unlike perks which can be switched around. As of now, there are 26 killers and therefore 26 powers (not counting The Artist, which is not yet available to the public). In contrast, there are 90 killer perks and 101 survivor perks.
The interesting thing about powers is that they create an additional piece of information that survivor players can use to predict a killer's playstyle. In essence, when the survivor sees who the killer is, they can already begin to strategize the rest of the game based on whatever power the killer has (if they did their homework, that is). For instance, if a killer is able to sneak (i.e. Ghostface), move very fast (i.e. Blight), or teleport (i.e. Nurse), the survivor will likely look around more frequently. If a killer has a unique sound (i.e. Huntress), the survivor may listen more carefully to note if the killer is approaching. It is therefore recommended that not just killers but also survivor-mains, players who usually only take on the survivor role, should try out or at least watch from all killers' perspectives to understand how choices are made and what each power is able to do.
1. Choose Your Fighter
For a beginner player who is exploring, it is entirely acceptable to try out killers' powers without adding any perks or even expecting a win at all. The most important thing at this stage is to try out different powers and find one that best matches your playstyle.
Below, I organized the power of 27 killers (including The Artist), their advantages vs. disadvantages, as well as my personal rating of their difficulty for beginner players. (I will put a huge emphasis on the word "personal." Everyone feels differently based on their skill level and playstyle, and this rating is my honest personal preference. If you really feel strongly about a rating and want to challenge it, feel free to leave a comment.)
| | | | | | |
| --- | --- | --- | --- | --- | --- |
| Beginner Friendly Level (1-3 Stars) | Killer Name | Power Name | Advantage | Disadvantage | Playstyle |
| ⭐⭐⭐ | Trapper | Bear Traps | Passive Long-Distance Damage | Set-Up Time | Strategy-based |
| ⭐⭐ | Wraith | Wailing Bell | Invisibility, Speed Boost | Buffer Time, Prone to Bullying | Chase-based |
| ⭐ | Hillbilly | Chainsaw | Speed, Insta-Down | Player Skill (Control) | Chase-based |
| ⭐ | Nurse | Spencer's Last Breath | Short-Distance Teleportation | Cool-Down Time | Chase-based |
| ⭐⭐⭐ | The Shape | Evil Within | Insta-Down, Spooky | Tier-Up Time, Background Work | Strategy-based |
| ⭐⭐ | Hag | Blackened Catalyst | Teleportation | Player Skill (Prediction), Timing | Strategy-based |
| ⭐ | Doctor | Carter's Spark | Debuffs Survivor, Potential to Track Locations | Constant Chase | Chase-based |
| ⭐⭐ | Huntress | Hunting Hatchets | Long-Range Attack | Player Skill (Prediction), Reload Time | Strategy-based |
| ⭐⭐ | Cannibal | Bubba's Chainsaw | Insta-Down | Set-Up Time, Limited Control | Chase-based |
| ⭐⭐ | Nightmare (Freddy) | Dream Demon | Teleportation, Distraction from Generator | Buffer Time for Attacks | Strategy-based |
| ⭐⭐⭐ | Pig | Jigsaw's Baptism | Sneak Up, Distraction from Generator, Potential Insta-Kill | First Hit Important | Strategy-based |
| ⭐⭐ | Clown | The Afterpiece Tonic | Debuffs Survivor, Speed Boost | Reload Time | Chase-based |
| ⭐ | Spirit | Yamaoka's Haunting | Invisibility | Player Skill (Prediction & Observation) | Chase-based |
| ⭐⭐ | Legion | Feral Frenzy | Speed Boost, Tracking Survivor Location, Distraction from Generators | Cool-Down Time, Constantly Chasing | Chase-based |
| ⭐ | Plague | Vile Purge | Semi-Long Range Attacks, Distraction from Generators | Reload Time, Player Skill (Control) | Strategy-based |
| ⭐⭐ | Ghost Face | Night Shroud | Insta-Down, Spooky | Background Work, Cool-Down | Strategy-based |
| ⭐ | Demogorgon | Of the Abyss | Long-Range Lunge Attack, Teleportation | Player-Skill (Prediction) | Strategy-based |
| ⭐⭐⭐ | Oni | Yamaoka's Wrath | Insta-Down, | Cool-Down Time, Player Skill (Control), First Hit Important | Strategy-based |
| ⭐ | Deathslinger | The Redeemer | Long-Range Attack | Reload Time, Attack Time | Chase-based |
| ⭐⭐ | Executioner | Rites of Judgement | Long-Range Attack Through Walls, Can Use Cage Instead of Hooks | Player Skill (Prediction), Loud | Strategy-based |
| ⭐⭐ | Blight | Blighted Corruption | Long-Duration Speed Boost | Cool-Down Between Rushes | Chase-based |
| ⭐ | Twins | Blood Bond | Dual Map Control | Player Skill (Control & Prediction), Prone to Bullying | Strategy-based |
| ⭐ | Trickster | Showstopper | Long-Range Attacks | Reload Time, Player Skill (Control) | Chase-based |
| ⭐⭐ | Nemesis | T-Virus | Passive Damage, | Generator Control | Chase-based |
| ⭐ | Cenobite (Pinhead) | Summons of Pain | Limited Teleportation, Debuffs Survivors, Distraction from Generators | Not Difficult to Counteract | Chase-based |
| ⭐ | Artist (Coming in November 2021) | Birds of Torment | Super Long-Range Attacks | Player Skill (Prediction) | Strategy-based |
A table summarizing each killer's power, how beginner-friendly they are for either strategy- or chase-based playstyle, and their advantages and disadvantages. Rating based on my own experience! No fighting!
Perhaps in a future article I will describe the powers in detail, but for now, try to choose a killer based on whether the advantages suit your playstyle and whether the disadvantages seem acceptable. (And of course, choose a killer that doesn't hurt your wallet.) As you saw, I also categorized them based on whether they are more suitable for (1) strategy-based players, who like to plan things ahead and give the final fatal blow, or (2) chase-based players who prefer using brutal force for an action-filled game. Of course, all killer-mains need strategies and chases to win a game, but some may prefer doing mostly one of the two.
2. Level Up for Perks!
The most significant benefit of a killer-main is the huge amount of blood-points that come out of each match, and once you decide on which killer you want to train, the priority would be using these blood-points to obtain perks in the Bloodweb. As time goes on, you will be paired with more and more advanced survivor players (especially in the skill-based matching algorithm), and having only the attack weapon and killer power is not enough to combat against them.
Some perks are more basic, such as increasing speed or other innate ability of the killer to chase, attack, or hook a survivor. Other perks are more advanced and activate in specific circumstances, such as blocking the exit gate for a period of time or having totems stack up towards a boost. The latter type of perks often come with a specific killer, though they may be seen in the store and available to exchange even without purchasing that killer's chapter. They usually require more thinking and strategizing ahead of time as well.
A beginner killer-main can aim to collect any perks that are available to that killer early-on, then slowly build towards other basic perks before moving on to other killers (unless they have a really good perk). Ultimately, the amount and types of perks will depend on what is available in the Bloodweb and how many blood-points were collected.
3. Be Nice, Even When Others Are Not
The tip to any multiplayer game is to be nice to all players, regardless of if they are the offense or the defense side of your team. For a 4vs1 game like Dead by Daylight, there are no teammates for a killer, and it may feel frustrating when you get bullied by more advanced toxic survivors and yet are not skilled enough to defend yourself. Some common things that can happen are multiple flashlight beams to blind you, multiple strong survivor perks on every survivor, noise spamming, hiding or not leaving at the escape gate, or inappropriate gestures (that I will avoid using the actual terminology for, in consideration of underaged readers). After each match, the end-game chat might be filled with words like "noob," "ez," "stupid," etc.
First of all, you might question whether you are just too bad at the game. Yes, you likely are if you are a beginner, and that is totally justified. But calling names and abusing that lack of skill is an act of toxicity. Everyone has to start somewhere, and rather than doing the above to you, a more advanced survivor can either loop you as if they were to face a more advanced killer, or try to give you a chance to succeed. For me, when I first started playing as a Huntress, a survivor who used to be a Huntress main messaged some tips that they found helpful and cheered me on. That gave me a lot of courage to continue practicing, and although I'm still pretty bad (unfortunately), the encouraging words motivate me to continue practicing so one day I could get better.
So what should you do as a beginner killer who has no teammate to defend you against these toxicity? For toxicity during the game, while it is frowned upon and can lead to some penalties, it is justified to leave the match as your time is valuable. For toxicity in the end-game chat, you can simply exit the match to start a new one, and you don't need to do anything other than reporting them or leaving their account with negative feedback. If they are rude, let them be, and ignore the toxic messages that hinder your success. The advantage of being a killer is that you suffer your own failures, so you do not have to feel bad about pulling anyone's leg for your lack of skill. Conversely, you are the one to reap your own success, and you have every right to celebrate a good game, regardless of if you won or lost.
On the other side of the coin, you as a killer should keep in mind some fair play strategies. Mainly, focus on whether you are giving the survivors a chance to compete against you. If you tunnel a single player, meaning that you never go after anyone else except for that player, the game becomes very boring for the other side. As well, if you immediately attack a player who was just saved from the hook, that survivor will probably die way too soon, and the game will be too short to be fun for anyone.
Instead, try to distribute your attention evenly. If you just hooked a survivor, leave the area to look for someone else in the distance. If a survivor is saved from in front of your eyes, go after the person who rescued them instead. If a survivor's teammates are all disconnected or all dead, try to go easy on the last survivor and maybe even let them go through the hatch. It may seem counterintuitive to let go of your prey voluntarily, and in fact sometimes you may have to betray these principles in order to win. But these principles are here so that everyone can have a chance to play their role. And always remember, having fun is more important than winning in a game like Dead by Daylight.
Are you ready for your beginner killer journey? To the next good game we go!
Sources
Image Sources