If you have even a little bit of knowledge on YouTube meme culture, you'll recognize the song "Plastic Love," by the Japanese singer Mariya Takeuchi. Ever since this song was uploaded to YouTube, it has spawned a plethora of remixes, crossovers, and meme videos, and followed "Never Gonna Give You Up," "Shooting Stars," and "All Star" into the pantheon of songs that the users of the video-sharing platform have brought back into the realm of popularity. On the Internet, at least.
What's arguably more important, however, is that the popularization of "Plastic Love" has spawned interest among YouTube users of the genre it belongs to – city pop. This genre, which enjoyed its peak in the late 1970s and 1980s, is a mélange of various genres of music, from standard pop to funk, R&B, jazz fusion, and world music. And if you ask me, it's a genre full of absolute bangers, a treasure trove of tunes hidden from the Western internet consciousness until relatively recently.
So, having recently become a fan of city pop, I've taken it upon myself to write a history of the rise and fall of this genre, from the early beginnings to its fade into obscurity and subsequent revival in interest over the past few years.
Born into Prosperity
If I had to describe city pop in only a few words, I would call it "the music of prosperity."
The birth of this genre, in the latter half of the 1970s, coincided with one of Japan's most economically successful eras – the postwar economic miracle (Bill Wurtz jingle intensifies). Following the Japanese defeat in World War II, the Japanese government initiated numerous economic reforms – including heavy industrialization, encouraging companies to focus on industries with much growth potential (e.g. electronics, automobiles, and computers), increased recruitment in the workforce, and loans to major corporations – with the aim to rebuild the economy.
Coincidentally, in the early 1950s, the United States was at war against North Korean and Chinese forces on the nearby Korean Peninsula. With the importation of materiel from the US being a difficulty, Japanese companies began to produce the equipment needed for the Americans fighting in Korea. Along with developing government policies, this increased demand helped stimulate the Japanese economy, and laid the foundation for the rapid economic growth that was to come, even after the Korean War had ended in 1953.
Between 1955 and 1973, Japan's gross national product (the total value of all products produced) grew by almost 10% every year. By the 1980s, it had transformed itself from a nation devastated by war to the second-largest economy in the world.
In the late 1970s and 1980s, Japan had also undergone a tech boom, with the development and popularization of various new technologies, including Sony Walkmans, cars with built-in cassette decks and FM radios, and even electronic synths and drum machines.
In a nation that was undergoing a serious economic revival, it wasn't surprising that a cosmopolitan lifestyle – based upon flashy cars, TVs, cassettes, Walkmans, and VHS sets – developed among many of Japan's city dwellers. And these urbanites would have needed a soundtrack of their own to suit their new-found wealthy, bourgeois lives.
It was under this backdrop that city pop – pop music for the cities – found itself filling a niche in Japanese society.
The genre originated with musicians taking influence from jazz and American soft rock (à la Steely Dan and the Doobie Brothers), among other genres, to produce their own versions of easy listening music. In the mid-1970s, the band Tin Pan Alley, founded by Haruomi Hosono, had played music that mixed together southern American R&B, soul, jazz fusion, and traces of Hawaiian and Okinawan music to create a unique style of music that, to some, was a forerunner to what would eventually become city pop.
This creative process was spurred by the aforementioned tech boom, with musicians being able to use the newly developed electronic instruments to create unique sounds based upon their own imagination. These sounds were unique in the fact that they were a combination of influences from all sorts of music – jazz, rock, pop, disco, funk, R&B, boogie, and world music, among others. And what topped it all off was the use of complex songwriting techniques, such as chord progressions involving sevenths, ninths and diminished chords. (Not what you would find in your ordinary Western disco playlists.)
The easy-listening side of 1970s Western music had merged and developed a unique, Japanese flair. (As Hosono himself would tell The Guardian newspaper in 2008, "[What] I wanted to make was exotica from an oriental perspective.") It was perfect for those days after work, when urbanites could turn on the car stereo, load up some pop music, and drive down those bustling city streets, lit up by the neon Technicolor signs of department stores, restaurants, and discos, as they looked ahead at the ever approaching sunset that heralded the end of a busy day.
City pop was indeed the anthem for a new generation of Japanese with comfortable careers, materialistic outlooks, and a large sum of money to spend. Its groovy basslines and smooth melodies provided the background music for an era of prosperity, affluence, and joviality – an era where money was king, and which seemed as if it would last forever.
Now, let's take a look at some city pop artists and their most famous works.
Some Names in City Pop
Let's start with one of the most famous city pop artists, and possibly the "king" of the genre itself – Tatsuro Yamashita. Yamashita's music career began with his formation of the band Sugar Babe in 1973, but it wasn't until the release of his moderately successful solo album Moonglow in 1979 that he was launched into popularity.
In 1980, he released the album Ride On Time, which topped the Japanese album charts; its namesake single, "Ride On Time," peaked at number 3 on the Japanese Oricon charts as well. (It's also one of those songs that I keep coming back to; you can listen to it below.)
Yamashita later produced and released several more albums, including 1982's For You and 1984's Big Wave, which served as the soundtrack album for the surfing-themed movie of the same name. He's also well known in modern-day Japan for writing the song "Christmas Eve," which appeared in his 1983 album Memories, and which has remained a staple Christmas song in the present day. (Since it's nearing Christmas, it might be time to start enjoying this tune.)
Mariya Takeuchi is probably the first city pop artist most YouTubers will encounter – all due to the song "Plastic Love," which appeared in her 1984 album, Variety. However, Takeuchi's career has been extensive in its own right. Having begun her music career as a student in 1978, Takeuchi achieved her first hits with the 1979 single "September" and the 1980 single "Fushigi na Peach Pie" (Mysterious Peach Pie). During this time, she collaborated with numerous musicians and songwriters, including Steve Lukather, Jeff Porcaro (both of Toto fame), and Tatsuro Yamashita, whom she would eventually marry in 1982.
Having taken a short break in music upon becoming pregnant, Takeuchi returned to the industry in 1984 and subsequently released several albums of her self-written songs, all of which topped the Japanese Oricon charts. She has also worked as a singer-songwriter for many other Japanese artists and have often covered those songs for her own albums.
As of September 2014, Takeuchi had released 12 studio albums, several compilation albums and one live album. Despite the relative obscurity of city pop these days, she has remained rather popular in the Japanese music scene, having sold more than 16 million albums and singles by 2009.
A former Sugar Babe band-mate of Tatsuro Yamashita, Taeko Ohnuki released her first solo album, Grey Skies, in 1976, and followed up with Sunshower (1977) and Mignonne (1978). In the 1980s, she released a string of albums with French titles, such as Romantique (1980), AVENTURE (1981), and SIGNIFIE (1983). My recommendation from her music would be "4:00 AM" off Mignonne – a funky banger with a dramatic chorus that I keep coming back to.
And last but not least, one of city pop's classics – Takako Mamiya's 1982 album Love Trip. This album has been recommended to me by Reddit users and some friends of mine on Discord, and having had a listen, I'd definitely recommend it to you as well. The songs on this album really give me the vibes of a summer sunset somewhere on the coastal outskirts of a Japanese city, as one looks into the vast ocean and orange skies ahead, being reminded of good times gone by and imagining better times to come.
What strikes me the most about Mamiya, however, is how she seems to have only recorded this one album before disappearing from popular music and recorded history in general. While a video essay, along with several Reddit threads, have been made regarding her whereabouts, there is still no definitive answer as to what the most mysterious woman of city pop had become after having released her only album.
Fading into Obscurity in an Era of Stagnation
Remember when I described city pop as "the music of prosperity"? Not only was city pop born in an era of affluence and materialistic comfort, it also began to fade away when that era ended and was replaced with stagnation and economic decline.
In the late 1980s, the Japanese economy witnessed the formation of an asset price bubble, in which low interest rates from banks led to corporations borrowing from those banks to purchase real estate, which increased the value of that property. Those corporations could then use that extra value to get more loans to speculate on the stock market or purchase even more real estate, thus forming a cycle of loans and purchases. Both the Tokyo Nikkei stock market index and real estate prices seemed to be on a never-ending rise to infinity; meanwhile, the economy continued to expand by astronomical proportions.
Nobody ever wondered how the corporations would pay back the loans, or what would happen if land values started to drop. It seemed as if the bubble would keep growing and growing, gradually toughening all the while – and never burst at all.
But then it did burst.
When the Japanese government implemented a sharp increase in interest rates, the Japanese economy began to nosedive. By 1991, the Nikkei index, which had been at 39,000 points at its peak in late 1989, had fallen sharply to 14,000 points. Similarly, real estate values plummeted by US$2.5 billion over just 30 months in the early 1990s. This was the beginning of Japan's "Lost Decade," during which the growth rate fell from 3.1% in 1991 to negative values in 1998 and 2001. Gone were the days of lavish parties, rampant materialism, and a carefree lifestyle; this was an era of stagnation, and prosperity was off the minds of the Japanese public.
And with the sentiment of affluence all but disappeared in Japanese society, it was natural that the soundtrack of this affluence – city pop – would disappear from the public consciousness as well. The Japanese public, forced to accept thrifty lifestyles, began to leave behind those basslines and melodies that were associated with the boom and bubble days of the past and quickly moved on.
City Pop Lives On: Later Influences
Despite the downfall of city pop in the early 1990s, the genre remained influential in the creation of several other genres in the subsequent decades.
In the late 1990s, the Tokyo district of Shibuya was a hub for fashion, nightlife, and youth culture, and home to numerous record stores, the likes of which included Tower Records and HMV. With the variety of music styles readily available to them, local bands began to experiment with mixing and sampling different genres of music, in a similar vein to city pop artists two decades before. The most famous of these groups, the Pizzicato Five, was notable for creating a blend of J-pop with characteristics of jazz, soul, and lounge music.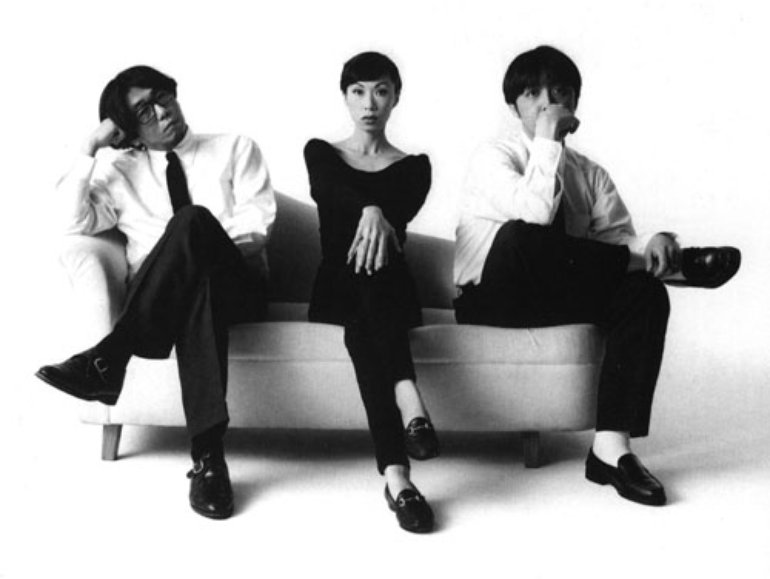 Of course, there was also the vaporwave trend that gripped meme culture in the early 2010s. Among the plethora of genres from the 1980s and 1990s that vaporwave artists sampled from was city pop, with the aim of creating an ironic twist on consumer capitalism and technoculture. (Considering that city pop was essentially the music of 1980s Japanese capitalism, I think they hit the nail on the head with sampling city pop tunes.)
Sprouting from vaporwave is the sub-genre of future funk, which largely consists of city pop samples mixed with French house music from the 1990s, with just a touch of record scratch. Compared to vaporwave's satirical outlook on capitalism, future funk seems to remind the audience more of the original affluence and comfort of 1980s Japan. Even the album covers are a crossover of city pop covers and anime-inspired art, with glittery, glamorous depictions of women being the main attraction.
Resurrection: The Return of "Plastic Love"
But ultimately, nothing could have brought back city pop more than the rediscovery of "Plastic Love" in recent years. Not only has the song been used in future funk remixes, but Internet users have also created fan art and videos in which the music theory behind the song is broken down and explained. What's more, uploads of the song also been made recommended videos by YouTube's algorithms, which (as experienced YouTube users may know) is often a good way to promote obscure music to the masses. As of January 2018, a video of a seven-minute version of the song had garnered 5.33 million views.
During the peak of city pop, many artists – Mariya Takeuchi included – never thought about expanding their genre beyond Japanese territory. In a 2018 interview, Takeuchi stated that "[considering] it was mostly performed in Japanese, we figured it was impossible to go abroad." Yet here the impossible was – thanks to the Internet, city pop was becoming a worldwide phenomenon, loved by millions around the world, many of whom didn't even speak a lick of Japanese.
Across the Tsushima Strait, in South Korea, artists have been creating a city pop revival of their own, focusing on Korean music from the 1980s but clearly inspired by the city pop revival on the Internet. The "Digging Club Seoul" project aims to increase awareness of city pop artists from the 1980s and 1990s in young people, allowing them to "encounter music they were not aware of," according to artist Yerin Baek. (Here's her cover of a Korean city pop song originally released in 1989.)
Indeed, city pop, once popular in an age of prosperity but then buried by an era of stagnation, has now been rediscovered by the Internet – and finally, it may get the chance to be born once again.
References
Bandcamp. (2019, August 26). Japanese Electronic Producers Look to the '80s for Inspiration. Retrieved from https://daily.bandcamp.com/2017/08/31/japanese-electronic-producers-look-to-the-80s-for-inspiration/.
Blistein, J. (2019, May 3). City Pop: Why Does the Soundtrack to Tokyo's Tech Boom Still Resonate? Retrieved from https://www.rollingstone.com/music/music-features/japanese-city-pop-returns-light-in-the-attic-compilation-pacific-breeze-822663/.
Blondeau, B. L. (2018, November 21). "Plastic Love": Vaporwave and Japan's Lost Decade. Retrieved from https://rokkupanku.wordpress.com/2018/05/12/plastic-love-vaporwave-and-japans-lost-decade/.
City pop. (2019, November 11). Retrieved from https://en.wikipedia.org/wiki/City_pop.
Ellington, L. (2004, September). PDF. Bloomington, IN.
Gillespie, D. (2019, September 27). Japanese fusion genre gets new life in the 2010s. Retrieved from https://cw.ua.edu/55174/culture/japanese-fusion-genre-gets-new-life-in-the-2010s/.
Impoco, J. (2008, October 18). Life After the Bubble: How Japan Lost a Decade. Retrieved from https://www.nytimes.com/2008/10/19/weekinreview/19impoco.html.
Japanese economic miracle. (2019, November 14). Retrieved from https://en.wikipedia.org/wiki/Japanese_economic_miracle.
Johnston, E. (2009, January 6). Lessons from when the bubble burst. Retrieved from https://www.japantimes.co.jp/news/2009/01/06/reference/lessons-from-when-the-bubble-burst/.
Jones, M. I. Q. (2017, January 17). The Essential… Yellow Magic Orchestra. Retrieved from https://www.factmag.com/2015/01/22/the-essential-yellow-magic-orchestra/.
Jung, H. "How South Korea's City Pop Genre Relives an Innocent Past." South China Morning Post, 24 June 2019, https://www.scmp.com/lifestyle/entertainment/article/3015830/retro-genre-south-korean-artists-relive-1970s-and-80s.
Katzner, D. W. (2001). Explaining the Japanese economic miracle. Japan and the World Economy, 13(3), 303–319. doi: 10.1016/s0922-1425(01)00056-1
Lee, G. (2019, July 12). Why illustrators around the world are in love with a 1980s Japan they've never experienced. Retrieved from https://www.digitalartsonline.co.uk/features/illustration/from-vaporwave-future-funk-night-tempo-artists-talk-japanese-aesthetics-of-cuteness-city-pop/.
O, S. (2017, August 23). JAPANESE 'CITY POP [シティポップ]': A DREAMY TRIP BACK TO JAPANS CAPITALIST FANTASY OF THE 1980S. Retrieved from https://beardedgentlemenmusic.com/2017/08/23/japanese-city-pop-1980s/.
Pyle, K. B. (1996). The making of modern Japan. Lexington, MA: D.C. Heath.
Taeko Ohnuki. (2019, November 3). Retrieved from https://en.wikipedia.org/wiki/Taeko_Ohnuki.
Tatsuro Yamashita. (2019, November 14). Retrieved from https://en.wikipedia.org/wiki/Tatsuro_Yamashita.
Tsutsui, W. M., & Mazzotta, S. (2014). The bubble economy and the lost decade: Learning from the Japanese economic experience. Journal of Global Initiatives: Policy, Pedagogy, Perspective, 9(1). Retrieved from https://digitalcommons.kennesaw.edu/jgi/vol9/iss1/6/
Vaporwave. (2019, November 8). Retrieved from https://en.wikipedia.org/wiki/Vaporwave.
Whatever Happened to Takako Mamiya? (2019). Retrieved from https://www.youtube.com/watch?v=1pnSrAqmmCo